1. Find mobiLUX tag next to standard label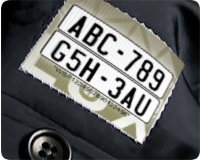 In the production facility, the secure MobiLUX labels are applied to individual products or cases.
2. Take a photo with your cell phone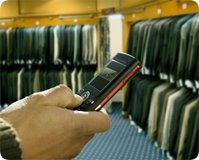 By using an ordinary cell phone with a camera and email or SMS text messaging capability, you can take a photo of the special MobiLUX label.
3. Send email / MMS to mobiLUX centre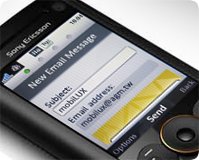 Send the picture to the MobiLUX website. Simple instructions for this process are clearly printed on the label itself.
4. Get back the originality confirmation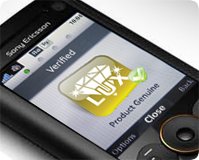 You'll receive an immediate reply that provides information about the product's source and authentic or counterfeit status. In the event that a product or label is illegitimate or has been tampered with, MobiLUX warns you.

Luxury Goods Authentication and Anti-Counterfeit System
CompEx, Inc., the parent company of Mobius, which provides comprehensive integrated web solutions to solve the complex connectivity problems facing today's organizations. Based in Columbus, Ohio, CompEx, Inc. is a privately-funded company formed in 1992 as a technology brand of global invention and vision to develop solutions for new business ventures. We specialize in interactive mobile marketing, web and mobile application development, business intelligence, infrastructure / security, and digital data management. Our innovative thinking, knowledge and systematic work methodology enable us to provide our customers with timely and highly effective solutions.
For more information about CompEx, Inc. or Mobius, contact our US Headquarters (877) 829-0536 or visit www.mobiworld.me
"Camera-equipped cellular telephones have become commonplace. However, the image-capturing capability of these cellular telephones is typically utilized merely to record images and share them with others. There is a need for a way to utilize the image-capturing capability of camera-equipped cellular telephones to serve as a data input device."